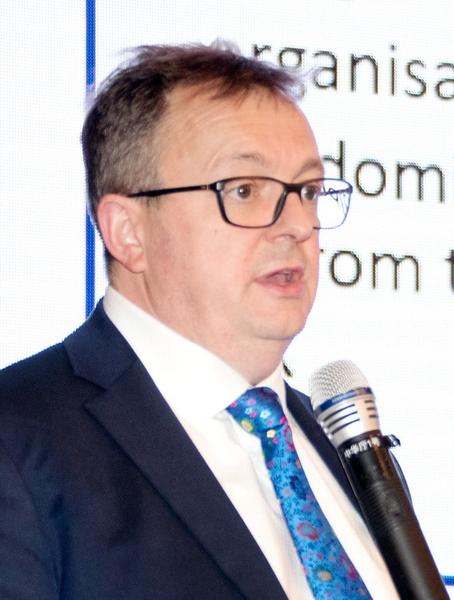 值此佳节,我向ISO/TC251成员付出的努力表示感谢,并期待充实忙碌的2022年。
Its that time of year where, for some, its the festive season for others a new year. Either way, its a great time of year for me to take time to thank you all for your efforts and look forward to a busy 2022.
首先,我要感谢Charles在2021年不断的指引和协助,感谢他对TC支撑的各项工作,并保证TC工作ISO的导则和程序保持高度一致。
Firstly, can I thank Charles for his continued guidance and leadership during 2021. I'm not sure we would get through our work without him, and even if we did, I suspect we would not be quite so compliant with the ISO rules and process. Thank you Mr Corrie!
2021年,我们还任命了Ashley Barratt担任TC的副主席,他积极参与了一些工作组的工作,并感谢他对工作事项的宝贵建议。感谢各位的努力,我期待与各位成员、Charles和各工作组召集人在2022年继续共事。
2021 was the year where we also welcomed Ashley Barratt as our Deputy Chair. I know he has actively engaged in a number of the WGs and I certainly appreciate his counsel on many matters over the year. Thank you for your efforts and I look forward to working with yourself, Charles and the Convenor team in 22.
2021年,我们还扩充了工作组召集人。首先,每个工作组现在至少有两个召集人,使得我们保障困难时期工作的弹性;此外,全球化远程协作加快了工作节奏,在此背景下,扩大团队分散了工作负担。请允许我感谢所有召集人、副召集人和他们的团队,他们为保证各项标准推进做出了突出贡献。
We have additionally grown our convenor team for 2 reasons. Firstly each WG now has at least 2 convenors to provide us with resilience in these difficult times but additionally it spreads the workload in a world where working remotely has increased the pace of work. Can I thank all convenors, deputies and their team leads for their efforts in keeping our workload on track. I certainly recognize the efforts from the working group leadership team as they do the really heave lifting in the committee to produce our outputs.
最后,毫无疑问,我要感谢来自35个国家的数百名专家为TC做出的贡献,使标准逐步实现。过去几年TC的工作更加多样化,但如果要确保TC反映所有而不仅是少数群体的专家意见,仍有很长的路要走。令我尤其高兴的,看到更多年轻人和女士参与到TC的工作之中。这要感谢远程协作为平时不能旅行的人提供了更多机会,促进他们的积极参与,我对此表示热烈欢迎。As a final thanks,it goes without question to the many hundreds of experts across 35 countries who contribute to our work and make our outputs possible. I've noted over the last few years a growth in diversity but we still have a long way to go to ensure that our work reflects the expertise of all of our communities and not just a few. I'm particularly pleased to see more younger active contributors as well as more ladies participating in our work and we need to remember that remote/virtual working provides greater opportunities for those that are not usually able to travel to more actively participate in our work. This can only be a good thing and I welcome it.
2022年TC的工作量会很大。9个工作组在ISO工作平台上协作运转,因此需要高度关注工作时间表规定的日期。的确,这具有挑战性,但我们必须保持协同工作,以便各组的标准进度保持一致。我相信,有了TC的专家组和各国资产管理技术委员会的参与和帮助,工作将顺利完成。
Looking forward to next year (perhaps this year by the time you read this). We have a large workload. With 9 working groups, many of them working on workstreams that are running in parallel we need to keep our eyes firmly focused on the dates laid out in the our timetable of work. Yes – this is challenging but conversely it is essential that we keep work in parallel so our publications remain aligned. I'm sure that with the group of experts we have and the reach back into the National mirror committees we will deliver our work.
最后,祝各位2022年幸福安康。期待2022年与大家保持在线交流,并希望在未来18个月左右,随着世界各地放宽限制,我们将迎来面对面沟通的机会。
I will end this note by wishing you and your families all the very best wishes for a healthy and happy 2022. Stay safe everyone and I look forward to meeting with you virtually over the year and hope for potential face to face meetings in the next 18 months or so as restrictions ease around the world.
祝大家新年快乐!并致以诚挚的问候!
Happy New Year everyone!!Best regards,
Rhys Davies
ISO/TC 251主席
转载自: 资产管理标准与技术‍ » ISO/TC251主席2022新年致辞